Lauterbach 2017/2018 (en)
Dear brethren and sisters, young people and children.
There will be another Bible Study Week, God willing, and again we will invite you to Lauterbach (Hessen).
The modern youth hostel is 120 km North East from Frankfurt Main.
A week away under God's word is a special blessing while we wait for the return of our Lord.
All the bedrooms in the youth hostel are en-suite.
In order to make the necessary arrangements we need your booking as soon as possible.
Because of the rising cost of living, all brethren and sisters are encouraged to give donations to help make participation more affordable for families with children and brethren and sisters from Eastern Europe and from Iran.
Complete payment due by October 31st with the following remark: "Lauterbach 2017_18". Bank details on request.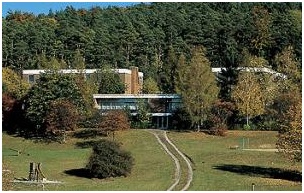 Date:
27.12.2017 – 01.01.2018
Arrival on the 27.12.2017 from 3pm. Departure on the 01.01.2018 after lunch.
Location:
Jugendherberge Lauterbach
Fritz-Ebel-Allee 50
36341 Lauterbach
Germany
Latitude: 50.6527083644416
Longitude: 9.4171314807578
Information about the Youth Hostel.
Speaker and Topics:
Bro. Andrew Bramhill (Redditch, UK):
"Ecclesial principles for the modern world"
The blessing of fellowship
Many members, one body
Built on the rock
God's witnesses
Waiting for Christ's return 
Bro. Dafydd Jenkins (Cardiff, UK):
"Jeremia – Forging the Iron" (Chapter 1-20)
I will make you an iron pillar
Running with the footmen
Contending with horses
A potter's vessel
Terror all around
Sunday school:
Sunday school will be held during the morning studies.
Booking Fees:
| | |
| --- | --- |
| Adults | |
| – Single room | € 295 |
| – Double bed room | € 245 |
| – Multi bed room | € 220 |
| Young people (17-19) | € 180 |
| Children (3-16) | |
| – With own parents | € 120 |
| – Without own parents | € 180 |
| Children (0-2) | free |
Booking:
The Bible School is already fully booked and we've started the waiting list!
To book on, please fill out the booking form and send it to the Imhof family via email.